Most of my elopement couples are from outer state who want to elope in Colorful Colorado. So the first question they ask, what is the best time of year to elope in Colorado? Honestly, any time is the best time in Colorado!
I will go through each month so you can select the best time to elope based on your vision!
JANUARY and FEBRUARY
If you are looking for a winter wonderland experience then January and February are guaranteed to give you those snowy feels. You will need to expect very cold conditions. Sometimes we get warm sunny days in the mountains with temps that reach up to 65F. But you need to be prepared for snow storms with temps as low as 13F or colder. These two months will have less people on trails as most of them will be skiing or snowboarding, unless you are looking for an epic ski or snowboard elopement day – I can help you with which mountains to ski on. I love Monarch or Wolf Creek for an authentic Colorado mountain town feel. So you have a higher possibility of less crowded trails to go have your first dance on a frozen lake or snowshoe somewhere amazing on your elopement day.
MARCH
March is very unpredictable. It is known to be the snowiest month in Colorado. Snow storms and blizzards are more common in this month so keep that in mind that we might have to change locations last minute. This is mostly applied to the western mountains. The Front Range, like Colorado Springs, Denver, and Boulder will have more mild weather but will still be affected by random snow storms. The days are longer with daylight savings starting mid March.
APRIL and MAY
Snow is pretty much guaranteed at higher elevation in the mountains in these two months. The weather can still be unpredictable as we still have random snow storms in the mountains. However the foothills such as Colorado Springs, Boulder, Denver, Golden, etc will most likely not have snow. April and May have more sunny and warmer days to enjoy.
JUNE
You can expect more warmer days and the snow to be melting in the mountains! The rivers will be at full force from the snow melt so a great time to go white water rafting for your elopement if you are looking for a thrill! Many areas in Colorado will be turning green and there will be some wildflowers starting to sprout.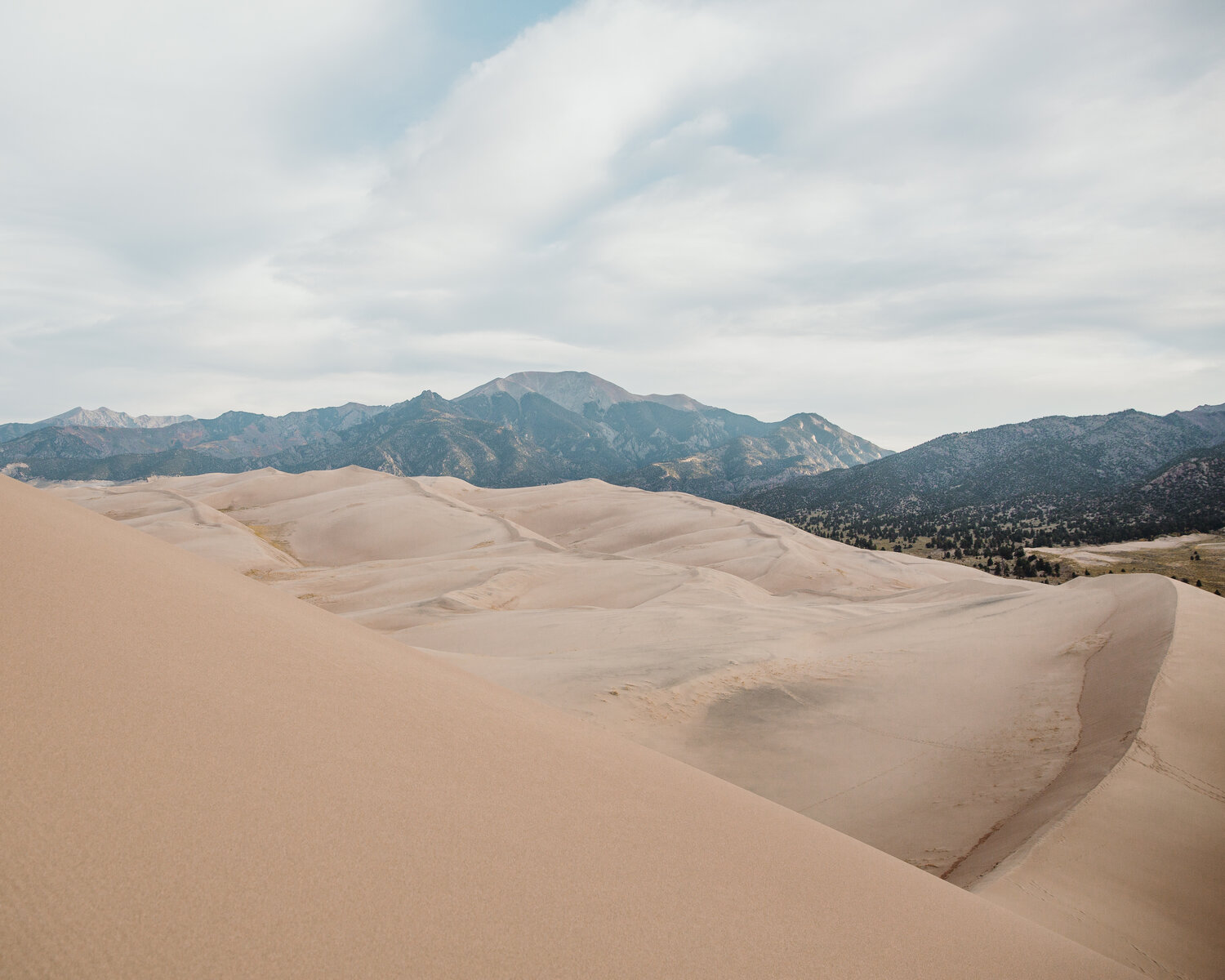 JULY and AUGUST
Summer is here! You can expect green landscapes, wildflowers, and hot days. In mid July, Crested Butte will have their wildflower festival. The wildflowers are crazy in Colorado, you can find some that are 6ft tall. It's by far one of my favorite seasons in Colorado. Keep in mind, Colorado is prone to afternoon storms in summer so I would recommend not being above tree line in the afternoon. We also get a lot of tourist during this time so I would recommend trying to have your elopement during the week at sunrise or sunset to avoid crowds.
SEPTEMBER
This month is probably one of the busiest months in Colorado. Why? Because we have some of the most stunning aspen trees that turn golden during this time. The leaves change only last for about two weeks if we don't have a freak snow storm. It starts from the top of Colorado and makes it way down to Durango. The most amazing places to have your elopement during this time will be Crested Butte, Aspen, Silverthorne, and Telluride. I would recommend trying to have your elopement during the week because a lot of tourist come to Colorado to see the leaves change so weekends will be extremely busy. The weather will be crisp with cooler nights.

OCTOBER
Depending on how much snow we got in the winter months, you could still catch some golden leaves but most of them would have fallen by early October. So you would have definitely have missed peak season but can enjoy some pretty Fall colors. This month is a bit unpredictable, we might get some snow storms come mid October. Expect cooler days and colder nights. You can still see Fall colors on the ground during this time in Colorado.
NOVEMBER and DECEMBER
Even though these two months are in winter, I can't guaranteed snow in certain parts of Colorado. It really depends! If you definitely want a snowy elopement, I would recommend a different month for guarantee snow. Otherwise, you can expect some sunny days, cooler temps, and colder nights.
I hope this blog helped you in figuring out what month is best to elope in Colorado suits your vision. You can't go wrong eloping any time in Colorado as each month brings something special.
I can't wait to help you plan your elopement with me!